A perfect start: The Au pair Academy near New York
Welcome to America! What would be a better start to your au pair adventure than to be in the metropolis of New York for the first time to breathe the air of the USA and to make new friends right at the beginning! At our Au pair Academy, you'll start off on a foreign adventure together with other au pairs from all over the world attending a multi-day introductory seminar. Our experienced AuPairCare team will prepare you for your future responsibilities and your new life as an au pair, as well as allowing you time to explore New York City and go shopping extensively!
Some host families may decide to welcome their au pair directly and do not send her or him to the Au Pair Academy in New York before arrival. In this case. you'll visit our virtual academy and complete all courses online before your departure. Don't worry, you can still visit New York at the end of the program during your travel month!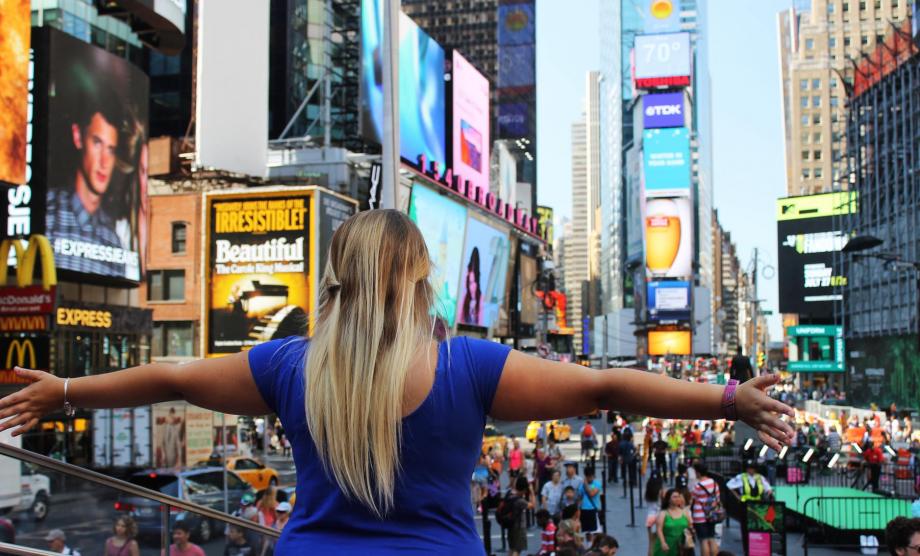 Stay at the four-star Hilton Hotel, incl. half-board

Reception and support by your AuPairCare team

Getting to know other au pairs from all over the world

Accommodation in comfortable shared rooms

Pool and fitness center in the hotel

View of the New York City skyline

optional sightseeing tour of Manhattan including shopping

free shuttle transfer from and to the nearby airport

free WIFI
You want to start your au pair adventure?
Then start with the first step and fill out your non-binding short application!
Your perfect start
The first hours and days in a new country can be overwhelming! The Au pair Academy will help you get adjusted and prepares you for your au pair adventure. Here is a little impression of what awaits you at the Academy:
Au Pair Academy - a customized program
To make you feel safe and ready for the big adventure, AuPairCare has teamed up with experts to develop a training program specifically for future au pairs. At our Au pair Academy you will complete a multi-day introductory seminar together with other international au pairs. You will engage in exciting Au pair courses with content like development-specific learning games, time management, safety with children in everyday life, first aid, dealing with homesickness and the first encounter with the host family. In the evenings, a varied leisure program awaits you.
Optional sightseeing tour of New York City
Now it's finally time for Manhattan! Book a bus ride into the city and discover the touristic highlights in the heart of New York together with other au pairs. Expect to see 5th Avenue, the Empire State Building, Broadway, Rockefeller Center and the famous Times Square!